Auditions For A Christmas Carol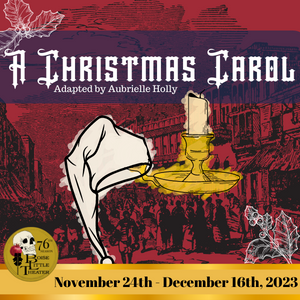 A Christmas Carol
Adapted and Directed by Aubrielle Holly
November 24-December 16, 2023
Come audition for "A Christmas Carol"!
Adapted and Directed by Aubrielle Holly
November 24-December 16, 2023
Charles Dickens' classic tale comes to new life this Christmas on the Boise Little Theater stage! This timeless story continues to speak to us with its bittersweet combination of love and loss, optimism and pain, the power of human kindness, and above all, the hope of redemption. An evening spent in the company of Scrooge's ghosts invites us all to see that it is never too late to make a difference in the life of another.
Audition Form: https://forms.gle/HbwSFaLZGZsmiYRh6
Sign Up for an audition slot: https://www.signupgenius.com/go/10C0C48A8AC2AAAFFCE9-achristmas
Auditions will consist of cold readings from the script. Most of the auditions will take place on Saturday, with a few reserved spots on Sunday, at the Director's discretion.
CHARACTER LIST
-Ebenezer Scrooge
-Bob Cratchit
-Jacob Marley
-Ghost of Christmas Past
-Ghost of Christmas Present (disguised as Townsperson in Act I)
-Fred/Young Scrooge/Gentleman 3
-Caroline, Fred's wife/Belle
-Young Ebenezer/Caroler/Peter Cratchit
-Gentleman 1/Fezziwig/Party Guest 1
-Gentleman 2/Dick Wilkins/Party Guest 2
-Mrs. Fezziwig/Party Guest 3
-Mrs. Cratchit
-Tiny Tim
-Fan/Martha Cratchit
-Narrator 1 (Workman)/Party Guest 4
-Narrator 2 (Scrubwoman)/Party Guest 5
-Narrator 3 (Lamplighter)/Party Guest 6
-Narrator 4 (Butcher)/Party Guest 7
Characters double as Townspeople and work scene changes as available
Scripted Cast: 13 men, 6 women – full range of ages
Roles may be adjusted based on auditions
Rehearsals to start on October 2