Auditions for Ride The Cyclone (Musical)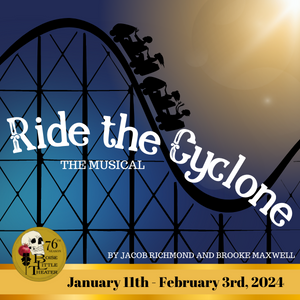 Ride the Cyclone: The Musical
By Jacob Richmond and Brooke Maxwell
Directed By Victoria Horn
January 12th-February 3rd, 2024
In this hilarious and outlandish story, the lives of six teenagers from a Canadian chamber choir are cut short in a freak accident aboard a roller coaster. When they awake in limbo, a mechanical fortune teller invites each to tell a story to win a prize like no other — the chance to return to life. A funny, moving look at what makes a life well-lived!
From The Director…
Hello everyone! We look forward to seeing you all at auditions for Ride the Cyclone! Please select a time slot for your initial audition at this link, callbacks will be held from 11 AM MT – 3 PM MT the following day, Sunday, October 1st.
Initial auditions on Saturday, September 30th, will consist of singing about 60 seconds of a song, preferably not from the show, that showcases your range and style. A bluetooth speaker will be available to connect to, but accompaniment for sheet music will not be provided. Please no a cappella auditions.
Callbacks will consist of cold reads from the script, and a dance audition, which will be taught promptly at 11 AM. Please show up warmed up, in clothes and shoes you can move in, or arrive early to warm up on-site. Additional vocal auditions by means of scales and vocalization may be required but will be conducted by the music director as needed.
This show contains adult language and themes, and all those auditioning must be at least 18 years old. Please direct all questions to Victoria Horn at victorioushorn@gmail.com.
CHARACTERS:
The Amazing Karnak
Male/Female/Non-Binary – 20-60 Non-singing role; the narrator; a mechanical fortune-telling machine. Please bring a short comedic monologue or story, still within the range of 60 seconds, in lieu of a song.
Ocean O'Connell Rosenberg
Female – 18-25 The leader of the group, relentlessly competitive, sometimes cruel, though she sees herself as a virtuous person; high Broadway mix, with a pop quality; big range – very Britney Spears. Soprano.
Misha Bachinski
Male – 18-25 Adopted from Ukraine as a teenager; he has thick Ukrainian dialect and a lot of rage; he is obsessed with Gansgsta Rap; there is a hidden, soulful romantic side, comfortable with stage kiss (male). Baritenor with the ability to sing lyrical Ukrainian folk music as well rap.
Noel Gruber
Male – 18-25 The only gay kid in Uranium; never had a relationship; obsessed with French New Wave cinema, he has fantasies of dying a poetically tragic death. Must be able to sing in the style of a French chanteuse, comfortable with stage kiss (male), and provocative wardrobe and dance. Baritone.
Ricky Potts
Male – 18-25 Suffers from a degenerative disease that has left him speechless and mostly immobile; he discovers at the beginning of the play that in this strange purgatory, he has regained all of these abilities. Baritenor rock voice; basic accordion and/or tumbling a plus.
Constance Blackwood
Female – 18-25 Overweight and/or unconventional, and outwardly okay with it, but there is a very deep self-loathing. Will do anything for Ocean's friendship and allows herself to be used as a doormat; dubbed "the nicest girl in town," a title she secretly despises. Very likable comedic actress; alto belt, with a rock edge.
Jane Doe
Female – 18-25 She was decapitated in the accident and no one claimed her body; even though she isn't headless in the piece. She reacts in a literal way and largely without emotion, almost robot-like; genuinely concerning. Classic soprano with flexibility in the lower range.
Virgil (The Rat)
Male/Female/Non-Binary – 18-60 Masked throughout the show, no lines, appears on stage to support the show and narration. Plays bass guitar (actual guitar skills negotiable).
Additional ensemble may be cast as bandmates for Virgil, all likely as masked rodents.