Auditions for She Kills Monsters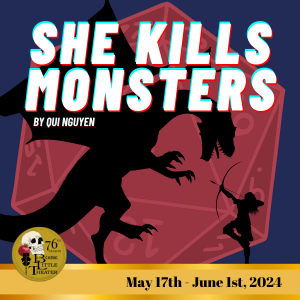 She Kills Monsters
By Qui Nguyen
Directed By Paul Archibeque
May 17-June 1, 2024
She Kills Monsters tells the story of Agnes Evans as she leaves her childhood home in Ohio following the death of her teenage sister, Tilly. When Agnes finds Tilly's Dungeons & Dragons notebook, however, she finds herself catapulted into a journey of discovery and action-packed adventure in the imaginary world that was her sister's refuge. In this high-octane dramatic comedy laden with homicidal fairies, nasty ogres, and 90s pop culture, acclaimed playwright Qui Nguyen offers a heart-pounding homage to the geek and warrior within us all.
From the Director…
–       Auditions will consist of cold readings from the script. (Sides will be posted here closer to auditions.)
–       Wear comfy clothes and be prepared to move.
–       There will be some doubling of roles.
–       A 4-6 person ensemble will be cast to play various roles/monsters as needed. They will have lots to do.
–       Must be 18 yrs. of age or older to audition.
–       Full rehearsals won't begin until the last week of March but there will be a few fight rehearsals and costume fittings Jan. through March.
Characters 
Agnes Evans: Described as striving to live an absolutely average life. She is of average height, size, and build, and grew up in the average town of Athens, Ohio with average parents. Agnes is a 25-year-old English teacher at her and Tilly's former high school. After Tilly's death, Agnes decides to go on a D&D adventure in order to feel closer to Tilly, as they never had a close relationship.
Tilly Evans/Tillius the Paladin: Agnes's sister who dies in a car crash at the age of fifteen. Tilly has a love for D&D adventures and anything classified as nerdy or geeky. Through the D&D module Agnes plays, it is learned that Tilly was facing her own challenges with her sexuality and bullying while she was still alive. In the game, her girlfriend is Lilith, which is later learned to be based on one of her friends named Lilly (or Elizabeth).
Miles: Agnes's boyfriend of five years. Miles and Agnes are in the process of moving in together. Miles is shown to be scared of commitment for not proposing to Agnes; however, at the end of the play the Narrator reveals that they eventually did get married. He appears in the game as a shapeshifting "gelatinous cube" that Agnes must kill.
Orcus/Ronnie: A demon overlord of the underworld that holds onto lost souls or knows where to find them. He is obsessed with watching television. The party travels to him first in order to ask about the Lost Soul of Athens. He later joins the party on their quest. He is based on one of Tilly's high school friends named Ronnie.
Vera: Agnes's best friend. She is the school's counselor. She is supportive of Agnes, but does not approve of Miles.
Chuck: A member of Tilly's friend group and the Dungeon Master for the game. He helps Agnes throughout the module and introduces her to Tilly's other real life friends.
Lilith Morningstar/Lilly: A Demon Queen that resembles a leather-clad dominatrix and is Tilly's girlfriend in the game. Lilith is based on Tilly's high school friend Lilly, who was Tilly's first kiss but is still in the closet.
Kaliope Darkwalker/Kelly: Kaliope is a Dark Elf that is described as looking like a supermodel and is incredibly strong. She is based on Tilly's high school friend Kelly, who is Ronnie's sister.
Narrator: Describes the events going on in the story and gives background description of the reason behind the story and the characters of Agnes and Tilly. The narrator is described as sounding like Cate Blanchett from The Lord of the Rings.
Steve: In real life he is one of Tilly's classmates. In the game he is a mage that usually is on the receiving end of bosses showing how powerful they are, resulting in his death multiple times over.
Farrah: A fairy and one of the bosses Agnes and her party must face before they can reach the final boss.
Evil Gabbi and Evil Tina: Cheerleader succubi that torment Tilly, in particular about her sexuality, both in the game and when she was alive. They are based on Tilly's high school bullies.