Announcing our 76th Season!
We have a great season in store for you!
Lots of shows that will entertain, make you think, laugh, cry, try to be better, despair, and love. Season 76 Season Ticket holders can order their season tickets, now, by calling our Box Office, or through our website. Individual tickets and Flex Passes will go on sale, soon!
Read with caution:
What one person finds entertaining, may not be to the next.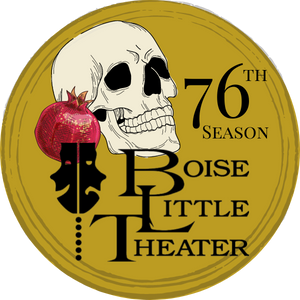 Sherwood: The Adventures of Robin Hood
Sherwood: The Adventures of Robin Hood
By Ken Ludwig
Directed By Curtis Ransom
September 1-16, 2023
Packed with thrills, romance, laughter, and immortal characters like Little John, Friar Tuck, and Maid Marian, Sherwood: The Adventures of Robin Hood tells the enduring story of a hero of the people who takes on the ruthless powers that be. So get ready to duck a quarterstaff or two – don't miss a moment of the swashbuckling fun!
Cast List
Robin – Justin Marshall Elias
Marian – Camilla Shell Boylan
Friar Tuck – Dave Falcone
Little John – Alexander Sproule-Fendel
Deorwynn – Cat Miller
Sir Guy of Gisbourne – Curtis Ransom
Sheriff of Nottingham – Jon Lyons
Prince John – Chance Fuerstinger
Ensemble Player- Jodi M W Falcone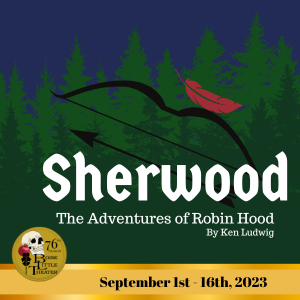 Agatha Christie's: The Murder of Roger Ackroyd
Agatha Christie's: The Murder of Roger Ackroyd
Adapted by Doug Goheen
Directed By Frank White
October 13-28, 2023
Adapted from the novel by Agatha Christie. Detective Hercule Poirot is forced out of retirement when his friend, Roger Ackroyd, is found brutally murdered. There's a locked door, an opened window, and a chair that moves itself. To all three, Poirot asks, "Why?" but finds no answer. Assisting Poirot in the investigation, Dr. James Sheppard provides Poirot with one of the most valuable clues in solving the case. However, with every suspect hiding a secret, the truth proves elusive…for a while.
Cast:
Joseph Wright – Dr. James Sheppard
Joseph L. Stevenson – Hercule Poirot
Mary Morris – Caroline Sheppard
Brad Ooley – Inspector Raglan
Rebecca Swanson Lyons – Mrs. Cecil Ackroyd
Karen Marker – Flora Ackroyd
Matthew Hansen – Geoffrey Raymond
Deanna Hamilton – Elizabeth Russell
Layne Taylor – John Parker
Anna Moore – Ursula Bourne
Steve Martin – Roger Ackroyd
George Patterson – Major Hector Blunt
Fraser Martens – Charles Kent/Stranger
Greg Hemmert – Ralph Paton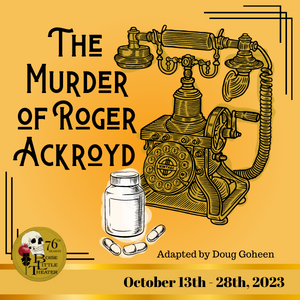 A Christmas Carol
A Christmas Carol
Adapted and Directed by Aubrielle Holly
November 24-December 16, 2023
Charles Dickens' classic tale comes to new life this Christmas on the Boise Little Theater stage! This timeless story continues to speak to us with its bittersweet combination of love and loss, optimism and pain, the power of human kindness, and above all, the hope of redemption. An evening spent in the company of Scrooge's ghosts invites us all to see that it is never too late to make a difference in the life of another.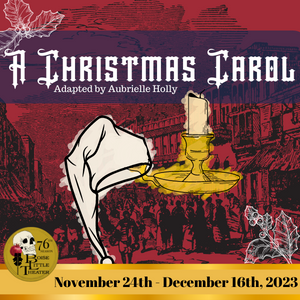 Christmas II: It's a Wonderful Nativity
Christmas II: It's a Wonderful Nativity
By Jeff Goode
Directed By Shannon Peterson
November 24-December 16, 2023
Blackbox Production
Jesus Christ was a child star who quickly faded into obscurity. And everyone involved in his Nativity saw their lives fall into ruins –from the Orient King who gave away all his gold, to the Talking Sheep who joined a circus freak show, to the alcoholic Angel whose media blitz fell apart when the newborn king and his family fled into divine witness protection. Now, 30 years after his birth, the Ghosts of Nativities Past converge on Bethlehem to try to teach Jesus Christ the true meaning of Christmas.
Off color and more than a little offensive to some…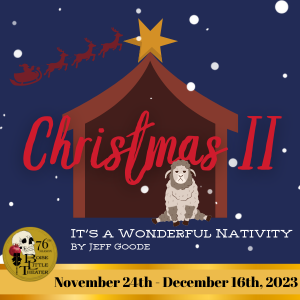 Ride the Cyclone: The Musical
Ride the Cyclone: The Musical
By Jacob Richmond and Brooke Maxwell
Directed By Victoria Horn
January 12th-February 3rd, 2024
In this hilarious and outlandish story, the lives of six teenagers from a Canadian chamber choir are cut short in a freak accident aboard a roller coaster. When they awake in limbo, a mechanical fortune teller invites each to tell a story to win a prize like no other — the chance to return to life. A funny, moving look at what makes a life well-lived!
This show is not for children and will offend some.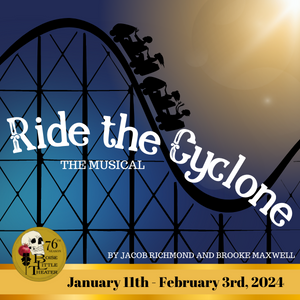 Love/Sick
Love/Sick
By John Cariani
Directed By Katie Shuter Rompala
February 23-March 9, 2024
A darker cousin to Almost, Maine, John Cariani's LOVE/SICK is a collection of nine slightly twisted and completely hilarious short plays. Set on a Friday night in an alternate suburban reality, this 80-minute romp explores the pain and the joy that comes with being in love. Full of imperfect lovers and dreamers, LOVE/SICK is an unromantic comedy for the romantic in everyone.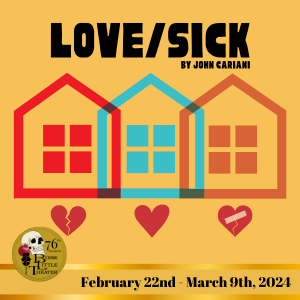 Kiss or Make Up
Kiss or Make Up
By Jack Sharkey
Directed By Kelliey Black-Chavez
April 5-20, 2024
Architect Morgiana Kendrick has found true love at last in the person of Hanley Swope, a city planner for whom she has designed the zoo's new crocodile house. The problem is that, to forestall incessant queries as to why she's not married, she has over the years created an imaginary husband and daughter. Now the Treasury Department, in the person of neophyte agent Barney Benson, is investigating why her husband has not paid taxes. Morgy cons a Casey, a neighbor, into posing as her daughter for Hanely's visit, but Casey's fiance shows up to announce their engagement and she tries to palm off Barney as her visiting brother. A policeman arrives to investigate a peeping tom report thanks to Barney's inept surveillance as all are attacked by parasitic crocodile crabs just when the fiance's Bostonian mother shows up to meet her son's intended. This comedy of mistaken identities, federal foolishness, and desperate romance is one that will have audiences howling.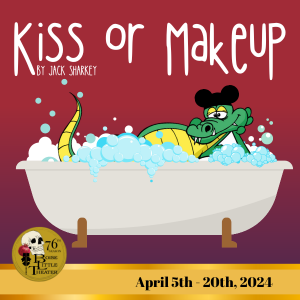 She Kills Monsters
She Kills Monsters
By Qui Nguyen
Directed By Paul Archibeque
May 17-June 1, 2024
She Kills Monsters tells the story of Agnes Evans as she leaves her childhood home in Ohio following the death of her teenage sister, Tilly. When Agnes finds Tilly's Dungeons & Dragons notebook, however, she finds herself catapulted into a journey of discovery and action-packed adventure in the imaginary world that was her sister's refuge. In this high-octane dramatic comedy laden with homicidal fairies, nasty ogres, and 90s pop culture, acclaimed playwright Qui Nguyen offers a heart-pounding homage to the geek and warrior within us all.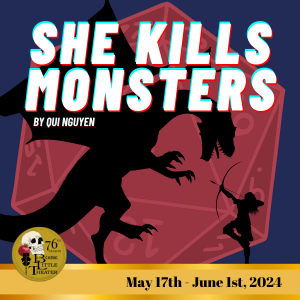 James and the Giant Peach Jr.
James and the Giant Peach Jr.
By Timothy Allen Mcdonald
Director TBD in conjunction with Boise Parks and Rec
July 12-20, 2024
When James is sent by his conniving aunts to chop down their old fruit tree, he discovers a magic potion that grows a tremendous peach, rolls into the ocean and launches a journey of enormous proportions. James befriends a collection of singing insects that ride the giant piece of fruit across the ocean, facing hunger, sharks and plenty of disagreements along the way. The possibilities for creative costuming and puppetry abound, and young actors will love playing the outlandish and larger-than-life human and insect characters.