Auditions for Kiss or Make Up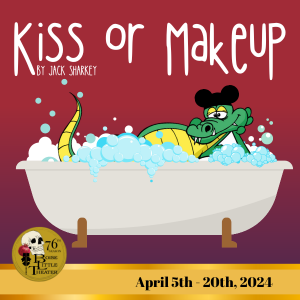 Kiss or Make Up
By Jack Sharkey
Directed By Kelliey Black-Chavez
April 5-20, 2024
Architect Morgiana Kendrick has found true love at last in the person of Hanley Swope, a city planner for whom she has designed the zoo's new crocodile house. The problem is that, to forestall incessant queries as to why she's not married, she has over the years created an imaginary husband and daughter. Now the Treasury Department, in the person of neophyte agent Barney Benson, is investigating why her husband has not paid taxes. Morgy cons a Casey, a neighbor, into posing as her daughter for Hanely's visit, but Casey's fiance shows up to announce their engagement and she tries to palm off Barney as her visiting brother. A policeman arrives to investigate a peeping tom report thanks to Barney's inept surveillance as all are attacked by parasitic crocodile crabs just when the fiance's Bostonian mother shows up to meet her son's intended. This comedy of mistaken identities, federal foolishness, and desperate romance is one that will have audiences howling.
Looking to cast 3 adult men:
Franklin McHugh – Love interest of Casey Delevan (mid 20's-30's)
Barney Benson – Former schoolmate of Casey and now a idiotic IRS agent (20's-40's)
Policeman – one of New Yorks, not at his finest – (20's+)
There are other parts in the show, but this show was cast several years ago and now is set to be on BLT's stage. These three parts are the final pieces to the puzzle.
Auditions will consist of cold readings from the script.
The main requirement is the ability to create a very unique character, not be afraid of crocodile crabs and, oh yes, not minding being on stage in your bathrobe. This will be a fun, close knit cast, I promise. Intrigued?